News
All the copies of "The Israel's Messenger" were microfilmed and scanned
8 March, 2009
Almost all the copies of "The Israel's Messenger" the Official Organ of the Shanghai Zionist Federation" were microfilmed and scanned, and now appear in the Publication section of the Shanghai Communities.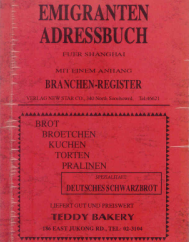 Emigranten Adressbuch Fuer Shanghai Mit Einem Anhang Branchen-Register
14 April, 2008
First published in November 1939.
Thousands of names and addresses of refugees residing in Shanghai in WWII. For specific names call Yossi Klein +972-3-5171997 (Mondays and Thursdays 09:00-12:00).
Obituary Prof. Peter Burton
1 January, 1900
In March 1999, he was given the Distinguished Emeritus title for making important contributions to the understanding of post-Cold War security relations between Russia and East Asia. Dr. Berton used psychoanalytic techniques to discover psychosocial factors that underlie relations among nations and governments. He was honored for his outstanding contributions and dedicated service to USC and to the international academic community.
In 2010, The Emperor of Japan bestowed the Lifetime Friend of Japan Rising Sun Honor, at the residence of the Consul General of Japan in Los Angeles. He was especially proud of this award.
Peter had a variety of interests. He was an avid sumo wrestling fan. He regularly attended chamber music concerts, the Los Angeles Philharmonic and especially the Carmel Bach Festival. He also for many years played the violin with his close friends. He enjoyed spending time with his family, including several family cruises.
He contributed to many charit
BGU launches website in Chinese for prospective graduate students
1 January, 1900
By LIDAR GRAVÉ-LAZI
Ben-Gurion University of the Negev launched a new website in Chinese on Sunday outlining its graduate study programs.
The website offers information about BGU's graduate programs in Chinese and directs interested students to further sources of information.
"As part of our efforts to enhance and expand our ties with Chinese academia, to foster research collaborations as well as attract outstanding Chinese students for Master's, PhD and post-docs to Ben-Gurion University of the Negev, we have just launched this website, which will increase our exposure in China," said Dr. Stavi Baram, director of the Office of International Academic Affairs.
The university offers a number of fully-funded programs for outstanding Chinese students including a Masters degree at The Albert Katz International School for Desert Studies, focusing on Desert Studies or Hydrology and Water Research, as well as in Mathematics, Physics, Chemistry, Life Sciences and Geological, Environm